Chick Counting and Packing System
The chick counting and packing system is mainly composed of the sorting platform, chick conveyor, conveyor for counting, U type keel net chain conveyor for chick box and other parts.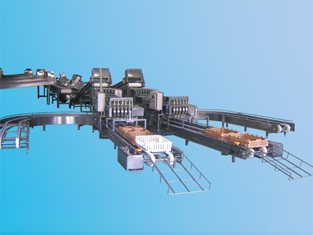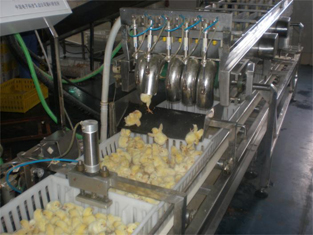 Dual-channel counting and packing system
Counting unit
Main Features
1. High counting efficiency: In every hour, this machine is able to count above 30,000chicks.
2. Precise counting for packing: The counting accuracy is about 0.3%. The artificial counting is uncertain for workers will feel tired with the extension of working hours, affecting the counting accuracy.
3. Suitable for a variety of hatcher trays: The hatcher tray in the hatchery, including the plastic basket and carton, is suited for using on this machine.
4. No harm for chicks: The obvious and potential damage for chicks in the operation of the machine are fully taken into consideration in the design. The conveyor is designed to run at proper speed, ensuring the counting efficiency and the safety of chicks.
5. Self-adaptive software: The chick counting and packing system adopts the control program that is able to capture the species difference of the chicks automatically and rectify the key parameter by itself to keep the counting precision.
6. Simple operating interface: Through the interface, operators can set the quantity of chicks in single basket. This interface also can display the quantity of chicks in current basket and the total amount of boxes.
7. Scientific epidemic prevention:Our chick counting and packing system succeeds in reducing the opportunities for workers to contact the chicks and their appendages directly, avoiding the cross infection of men and chicks.
8. Antiseptic and easy for washing: The entire machine is made of high quality stainless steel. The ingress protection of the electrical components mounted in the parts that need washing reaches IP65 and above.
Related Names
Baby Chick Counting Machine | Automated Chick Packaging Equipment | Chick Conveyor System
Other Products