Egg Separating Machine
The egg transshipping machine is the device for transferring the hatcher trays on the hatching trolley mechanically to the egg overturning and separating equipment line. After the hatcher trays are emptied automatically by the overturning mechanism, the egg separating machine is able to separate the chicks and the eggshell effectively. These three combined processing modules without spacing are called the front end equipment in the chick processing and are the control units with high degree of automation.
Workflow
The operator pulls two hatching trolleys out of the hatching machine and places them in the positioning device of the transfer equipment. Then the operator presses the button to start the machine. When the system detects the hatching trolleys, it will capture two columns and three layers of hatcher baskets automatically and transfers them on the roller line. The special device pushes the hatcher baskets into the keel chain conveyor at triple times separately and then the hatcher baskets will enter the overturning device, emptying them automatically. The empty baskets will be sent to the dedicated washing machine for cleaning and disinfection.
The chick and eggshell poured on the conveyor belt will be sent into the roller egg separating machine for separation. The eggshell and dead embryo egg will be delivered to the garbage centralized processing room via the conveyor, yet the chick will be transmitted to the next process through the net chain conveyor for further selection of weak chicks, sexing, vaccine injection, counting, packing and so on.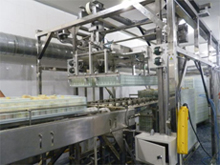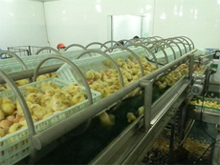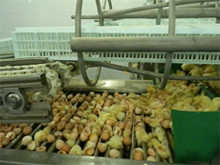 Transshipping device
Overturning equipment
Separating equipment
Main Features
1. The front end chick processing line is able to deal with 60000 chicks every hour, increasing the production efficiency substantially and reducing the labor intensity.
2. It improves the working environment of workers thoroughly.
3. This egg separating machine diminishes the direct contact of men with chicks, preventing the cross contamination and infection and improving the safety standard of creatures.
Related Names
Egg Turner | Chick and Shell Separator | Chick Waste Separator
Other Products