Poultry Ventilation System
Ventilation system
The purpose of the ventilation system is to discharge the waste gas and get fresh air into the poultry house. On the one hand, it makes sure that there is enough oxygen inside the poultry house, and emits waste gases such as carbon dioxide. On the other, it also helps to cool down the temperature inside the house. In addition, the ventilation machine can be used together with the wet curtain to achieve better cooling effect in hot summer days.



Ventilation is not easy to manage in terms of breeding. The size and way of ventilation is related to energy saving, thereby affecting the economic efficiency of enterprises. The most effective and economic way of ventilation is the negative pressure ventilation. In order to adjust the environment inside the house and maintain the suitable temperature, the negative pressure ventilation is required. Also, through automatically adjust the opening size of the ventilation window and detect the temperature outside, the environment inside the poultry house can be effectively improved.
Ventilation mode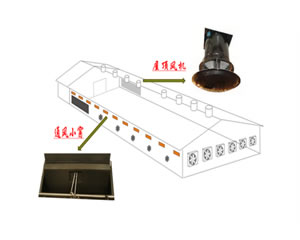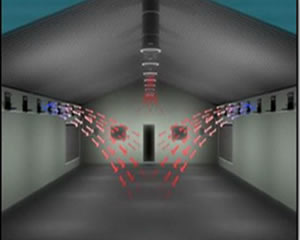 The combination of small ventilation
window and the roof fans
Ventilation diagram of small
window and the roof fans
In winter, the combination of the roof fans and the small ventilation window can effectively ensure the ventilation. So no matter how low the temperature outside is, the minimum ventilation volume needs to be guaranteed. In summer, the small ventilation window is used with chicks no more than 21-day old. And when the outdoor temperature becomes high, the small ventilation window will be slightly opened to form a reversed closed loop.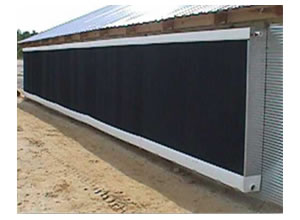 The combination of wet
curtain and vertical fans
Ventilation diagrams of
wet curtain and vertical fans
In summer, when the chicks are more than 21 days old, the longitudinal ventilation is adopted to prevent high temperatures outdoor (the maximum speed can not be greater than 2.5m/s). In case the longitudinal ventilation doesn't work, there is the wet curtain cooling system as backup. The water film absorbs heat in the air and evaporates to water vapor so that the poultry house becomes cool and moist and the temperature thus cools down.  

In order to get the ideal ventilation, encapsulation is of vital importance. Meanwhile, advanced environment controller is needed to help manage and control the environment.
Xingyi Electronic is a China-based poultry ventilation system manufacturer and supplier. We also offer poultry house climate controller, large capacity single stage incubator, tunnel incubator, hatchery automation equipment, and much more.
Related Names
Large Chicken Coop Ventilator | Air Ventilation Equipment | Air Conditioning System

Other Products