Poultry Climate Control System
Our EI poultry climate control system is a versatile network control system that controls and improves poultry house environment. Through data collection and processing, the system automatically controls the temperature, humidity, vertical fan, horizontal fan, roof fan, small ventilation window, wetted pad, air inlet, light, static pressure, and more inside the poultry house. The poultry climate control system can guarantee the best suitable temperature and humidity to meet the needs of poultry growth, maximizing the potential of poultry production, while reducing the stress of the flocks caused by untimely manual adjustment.
EI poultry climate control system is mainly composed of ventilation cooling system, heating and humidification system, lighting system and other poultry house controllers.
EI Poultry Climate Control System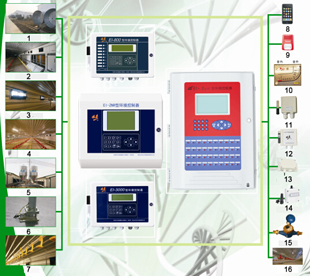 1. Fan Filter Unit
2. Wetted Pad and Air Inlet
3. Small Ventilation Window
4. Feeding Lines
5. Feed Supply System
6. Electronic Weighing Device
7. Water Line
8. Communication Alarm
9. Sound and Light Alarm
10. Static Pressure Sensor
11. Temperature Sensor
12. Humidity Sensor
13. NH3 Sensor
14. CO2 Sensor
15. Electronic Pump
16. LED Lighting
1. Ventilation Cooling System
The ventilation cooling system allows the temperature and humidity to be controlled within an appropriate range in the poultry house, and harmful gases be limited within the allowable range. Ventilation provided by the poultry climate control system is intended for different purposes in different seasons: in summer, ventilation is mainly to take a lot of heat from the poultry house to mitigate the adverse effects of high temperature on poultry; while winter ventilation is mainly to introduce fresh air from the outside into the poultry house, discharge polluted air to improve the air quality inside the poultry house. Our poultry climate control system can fully meet all the needs above.
Ventilation: poultry house ventilation is generally classified into three types: horizontal, vertical, and mixed ventilations, which are enabled by installing fans, small ventilation windows, air inlets and wetted pads.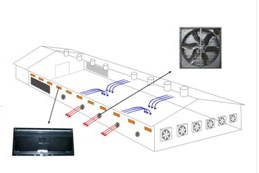 Horizontal Ventilation Constituted by Roof Ventilator and Small Ventilation Windows
Horizontal Ventilation Constituted by Attic Fan and Small Ventilation Windows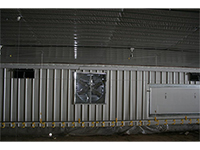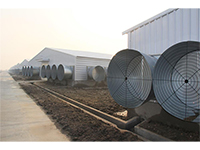 Horizontal Ventilation
Vertical Ventilation
Vertical Ventilation Schematic Drawing
1.1 Fan
The commonly used fans for poultry climate control system are 50" fans, 36" fans, 24" fans and roof fans.
The 50" fan comes in ordinary fans and cone fans. The cone fan allows 10% more air flow than the ordinary one does. The 50" fan is often used together with the wetted pad, and thus constituting the so-called vertical ventilation. In hot summer, the vertical ventilation takes away a lot of heat from the poultry house to mitigate the adverse effects of high temperature on poultry.
The 36" fan and 24" fan is mainly used for horizontal ventilation, which also involves the use of small ventilation windows. The horizontal ventilation is often used when outside temperature is below room temperature, like in winter, or during brooding period. These horizontal fans are mounted on side walls. A 36" fan is usually arranged every 300 to 400 square meters within the poultry climate control system. The 24" fans mostly have variable speed. Through frequency control, you can adjust the fan speed and reduce energy consumption.
Functionally similar to horizontal fans, the roof fan also works with small ventilation windows to achieve horizontal ventilation. The difference is that the roof fan enables more even coverage, so that the temperature in the poultry house is more stable, without dead ends.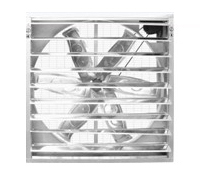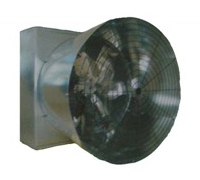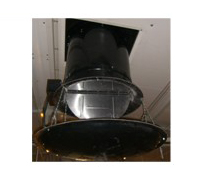 Ordinary Fan
Cone Fan
Roof Fan
1.2 Small Ventilation Window
The windows of the poultry climate control system provide fresh air for poultry house and regulate the negative pressure in it. It is usually mounted on side walls with spacing of 3 to 4 meters. For broiler chicken house, the number of windows needed is determined by the number of chickens. The small windows must be fitted with nets to prevent birds, mice and other small animals from getting into the poultry house.
1.3 Wetted Pad and Air Inlet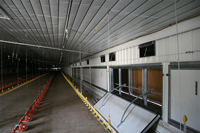 The wetted pad cooling system is composed of the paper-based porous wetted pad and the water circulation system. This cooling method is widely used by poultry climate control systems. In summer, the application of wetted pad cooling technology can make large-scale poultry farming in hot regions technically possible. Using wetted pad with vertical fan can effectively avoid decrease in production and increase in death rate due to summer heat
2. Poultry House Controller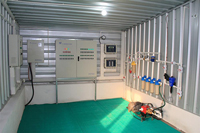 The poultry house controller is capable of acquiring data of temperature, humidity, ventilation, water, light and air quality, and then develop precise environment control scheme as the breeding process requires, providing good living conditions for poultry. The poultry house controller can also automatically control feed and water supply according to the intake demand in growth cycle of poultry.
Based on the correct understanding of breeding patterns and in-depth research into poultry climate control system, our control ideas are closer to the needs of farmers. Our environment controller can be described as being technologically advanced, powerful, and easy to use. It can display complex breeding parameters and sophisticated control process in simple forms of text, image, animation, and voice. Supplemented by remote network monitoring center, it can automatically adjust the poultry house environment, control feeding behavior, monitor growth status, analyze breeding parameters and improve breeding quality, and thus leveling up the farm management.
3. Product Categories
After years of independent R&D and technological innovation, we successfully developed our poultry climate control system that features advanced controlling concepts, first-class technical level, and internationally competitive supporting features. Some technical parameters and control methods even go beyond those of world advanced products. The newly developed EI-SUN and EI-800 types of controllers, and the old popular EI-3000 and EI-ZNR controllers, form the EI series of poultry house controllers to meet different customer needs.
3.1 EI-3000 Poultry House Controller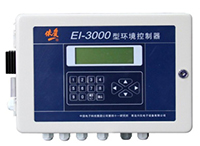 The EI-3000 controller is now the most frequently used poultry house environment controller in China. Its reliability and user acceptance are market-proven. Main features of the controller are: advanced control methods and control concepts, full-featured, easy to use, easy to learn, and powerful optional functions (such as static pressure, air inlet, temperature and humidity transmitters, etc.). Gathered and separate brooding methods are both allowed for the poultry climate control system.
With superior performance, good control effect, and high cost-effectiveness, the EI-3000 controller wins the favor of large-scale farming enterprises. Now Fujian Sunner Development Co., Ltd. has been equipped with more than 2000 units of our EI-3000 controllers, and a farming project that involves hundreds of millions of broiler chickens in Guzhen also uses this controller. The controller is also in Shandong Yisheng Livestock & Poultry Breeding Co., Ltd and Henan Huaying Agricultural Development Co., Ltd.
3.2 EI-ZNR Intelligent Controller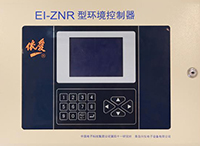 In China, the EI-ZNR intelligent controller is currently the only one that can achieve fully automatic feeding. Stability in extremely cold weather is the biggest advantage of this controller. The controller is successfully used in a number of poultry climate control systems in Russia, and has achieved good breeding results, which provides further evidence of the superior environmental adaptability of the controller.
Benefiting from the cutting-edge body temperature control technology, the EI-ZNR controller enables completely intelligent control. The reliable operation under harsh environment has won a lot of attention from customers in northern areas. In view of the good breeding results achieved by Yisheng company using our intelligent controller, Heilongjiang Agriculture Co., Ltd. replaced all the controllers in their not yet completed poultry climate control systems into ours, to better adapt to the cold weather in the Northeast region.
Main Parameters of Poultry House Controllers
Item
Parameters
EI-2000
EI-3000
EI-ZNR
Temperature
Setting Range
2℃~40℃
Measuring Range
2℃~40℃
Resolution
0.1℃
Humidity
Setting Range
30%RH~90%RH
Measuring Range
30%RH~90%RH
10%RH~95%RH
10%RH~99%RH
Resolution
1%RH
Moisture
Measuring Range
0kg~60000kg
Resolution
0.01kg
Feed Supply
Measuring Range
0kg~60000kg
Resolution
Millesimal Measuring Range
Static Pressure
Measuring Range
0~200Pa
0~200Pa
0~2500Pa
Resolution
1Pa
Ammonia
Measuring Range
1ppm~45ppm
——
——
Resolution
1ppm
——
——
Poultry Weighing
Measuring Range
——
0kg~9.999kg
0kg~9.999kg
Resolution
——
0.01kg
0.01kg
Feed Tower Weighing
Measuring Range
——
——
0kg~60000kg
Resolution
——
——
Millesimal Measuring Range
Ventilation
Eight groups of fans can be independently controlled. Sub-level smart start in a total of 20 levels is available. Variable frequency fan is also controllable. One may limit the maximum and minimum ventilation level. Automatic control over wetted pad mouth and wind screen mouth.
5-way roof fan, 12 vertical fan continuous control, automatic calculation of the minimum ventilation rate
Lighting
Illumination start time, off time and slowly fade time can be set. Up to 50 groups of parameters can be set at a time.
Output
2 analog outputs, 24 relay outputs.
2 analog outputs, 40 relay outputs.
Other Products