Single Stage Egg Incubator
Besides the basic functions like automatic temperature and humidity control, regular eggs turning-over time and other alarms, the single stage egg incubator also has a set of protection systems in particular to ensure the safety during the incubating process, such as the conductivity meter for overheat prevention, twice temperature control under emergency, manual eggs turning-over option, etc.
The container is assembled by the color-painted steel insulation board and connecting materials to ensure an elegant appearance and a long-lasting service life. The box is also configured with materials of different colors, gold, silver, etc. The bottom of it is equipped with guide rails in order to save effort, which makes it easy to operate as well. With a full diameter mixed-flow fan, the temperature inside the box is able to stay stable and even. In addition, a new ventilation device helps to separate the air inlet, air exhaust and air cooling passages and finally release the carbon dioxide. Our single stage egg incubator performs well with low failure, so the machine is capable of maintaining its long working lifespan. Moreover, a memory timer and the "group control" function make it easier to manage the hatcheries and also provide a remote control platform.
2 controllers available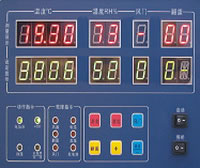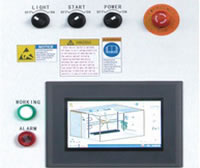 1. Configuration instructions
Main structures
The main structure of the single stage egg incubator consists of main engine(fan, egg turning-over device, air-cooling and humidification systems, ventilation door), container (top plate, side plate, door plate, profiles), control cabinet (main control circuit board, power board, relay board and strong power controlled circuit), and incubating trolley (including hatching tray and chick takeoff basket).
Function systems
The function systems include the fan mixing system, the heating and humidification systems, egg turning-over system, as well as air-cooling and ventilation door systems. In addition, water heating/cooling and group control systems can also be equipped where needed.
2. Parameters
| | |
| --- | --- |
| Temperature control range | 34.2℃ ~ 39.5℃ |
| Humidity control range | 40% ~ 70% RH |
| Temperature control accuracy | ±0.1℃ |
| Temperature display resolution | 0.01℃ |
| Humidity display accuracy | 1%RH |
| Thermal field stability | ≤ 0.10℃ |
| CO2 content at later stage of incubation | < 0.15% |
| Egg turning angle | 43°±2°(Duck, 50°±2°) |
3. Working environment
1. Working temperature: 20~27℃ (optimum)
2. Humidity : 50~70%RH
3. Power supply : three-phase five-wire system 380V/220VAC 50Hz±10%
4. Water pressure : 3~5KgF/cm2
5. Hatcheries : The ground requires a ≤5mm flatness within the range of 10m2 and there must be a drainage ditch. The height of the hatchery would be ≥4.5m with perfect ventilation system and what's more, the exhaust gas must be emitted through the pipes to the outside.
4. Specifications
Types
Species
Model
Egg collecting
capacity
Numbers of
trolley
Dimensions(mm)
Apparent power
(KW)
Incubation
equipment
(brooder)
Chick
EIFDMS-19200
19200
4
3360*2235*2375
5.84
EIF(TPC)-19200
19200
4
3360*2235*2375
6
Duck
EIFDMS-(Y)12096
12096
4
3360*2235*2375
5.84
EIF(TPC)-(Y)12096
12096
4
3360*2235*2375
6
Geese
EIFDMS-(E)7680
7680
4
3360*2235*2375
5.84
Poultry takeoff
equipment
Chick
EICDMS-19200
19200
4
3360*2235*2375
5.66
EIC(TPC)-19200
19200
4
3360*2235*2375
5.82
Duck
EICDMS-(Y)12096
12096
4
3360*2235*2375
5.66
EIC(TPC)-(Y)12096
12096
4
3360*2235*2375
5.82
Geese
EICDMS-(E)7680
7680
4
3360*2235*2375
5.66
Xingyi Electronic is a professional single stage incubator manufacturer in China. We offer a wide range of products, including thermal air flow duck incubator, tunnel incubator, hatchery automation equipment, production management, among others.
Related Names
Chicken Incubator | Egg Hatchery Machine | Chick Brooder
Other Products